HEILSTOLLEN
(Gastein Healing Gallery)
The Gastein Healing Gallery is a health center for radon therapy located in Böckstein. Treatments in the Healing Gallery ("Heilstollen") are centered on therapy sessions conducted in a 2.5 km-long tunnel with naturally elevated radon levels.
The combination of high humidity, warmth and radon deep inside the Radhausberg in Bad Gastein makes the Gastein Healing Gallery a form of therapy unlike anywhere else on Earth. Long-lasting pain alleviation, reduced need for medications for as long as one year as well as immune stabilization, are amongst the scientifically proven benefits of radon therapy in this Healing Gallery in Austria.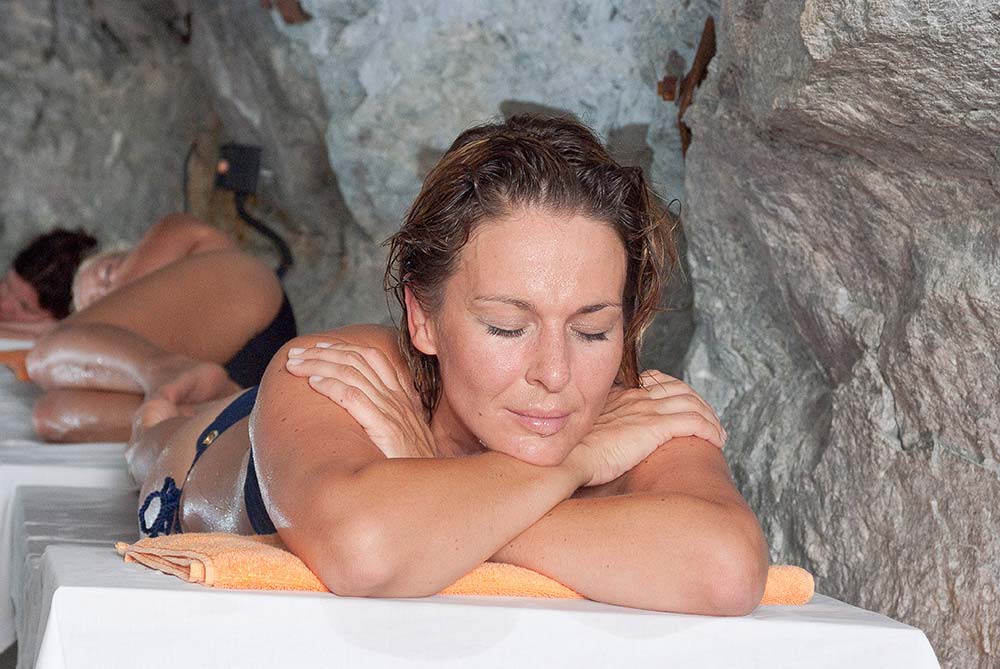 The secret of the special healing climate deep within the Radhausberg in Gastein is based upon the unique combination of the following factors:
• Natural radon content of 44kBq/m³
• Warmth from 37-41,5° Celsius
• Humidy from 70-100%
• Alpine elevation at 1.270m above sea level
Warmth, radon absorption through the lungs and skin, and therapy administered inside a mine gallery result in additional and long-lasting therapeutic effects.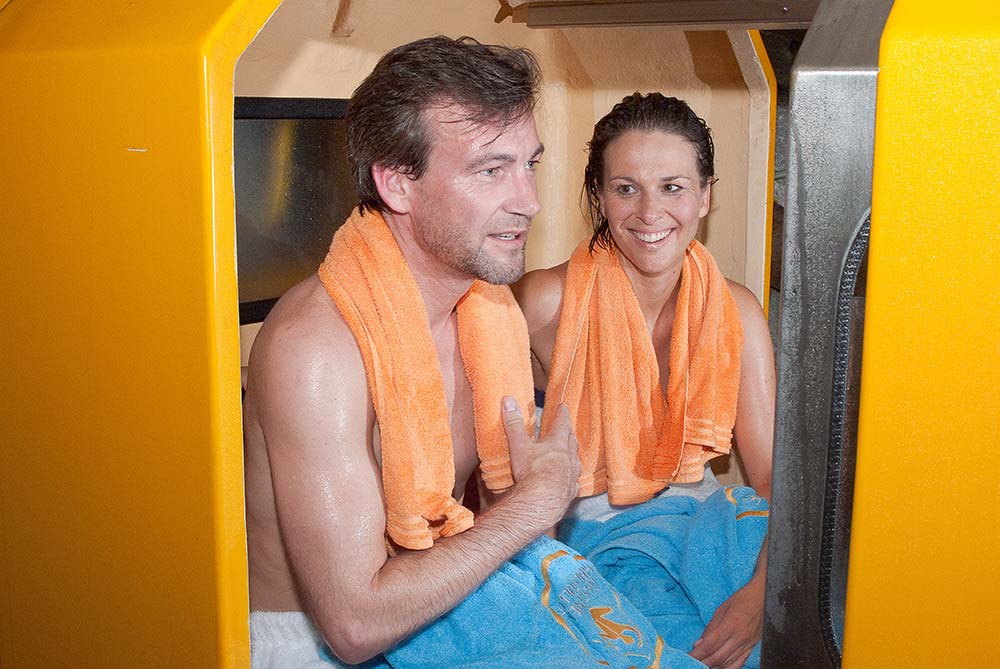 The unique healing climate is absorbed through the lungs and skin, then rapidly distributed throughout the body. Its decay products are deposited on the skin and mild alpha radiation is released.
This in turn stimulates the body's own cell repair mechanisms and reduces the number of free radicals. Anti-inflammatory messenger substances are activated, promoting healing. The movement of inflammatory cells through the walls of vessels is reduced. These processes combat chronic inflammation as well as allergies.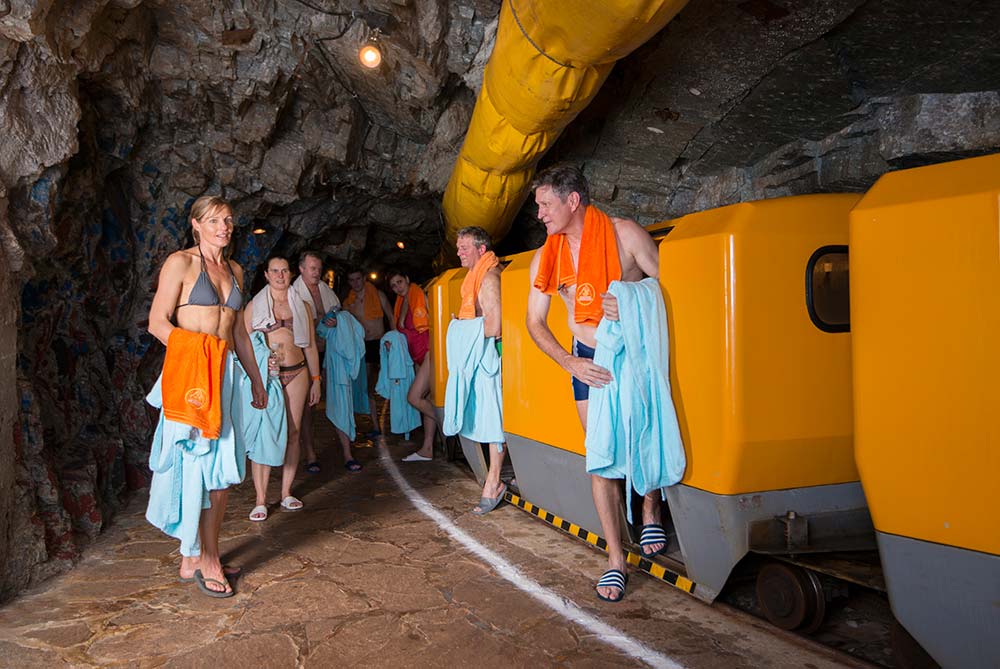 After being examined by a doctor, you can change into swimwear. Then, the actual therapy begins by taking a train approximately 2 km into the mountain. You will spend around 60 minutes in the therapy area, with separate sections for women and men.
Each treatment starts at Station I (37 °C, humidity 70%) and can be gradually increased during subsequent sessions.
Following the therapy session, our medical professionals recommend a rest period of about 30 minutes.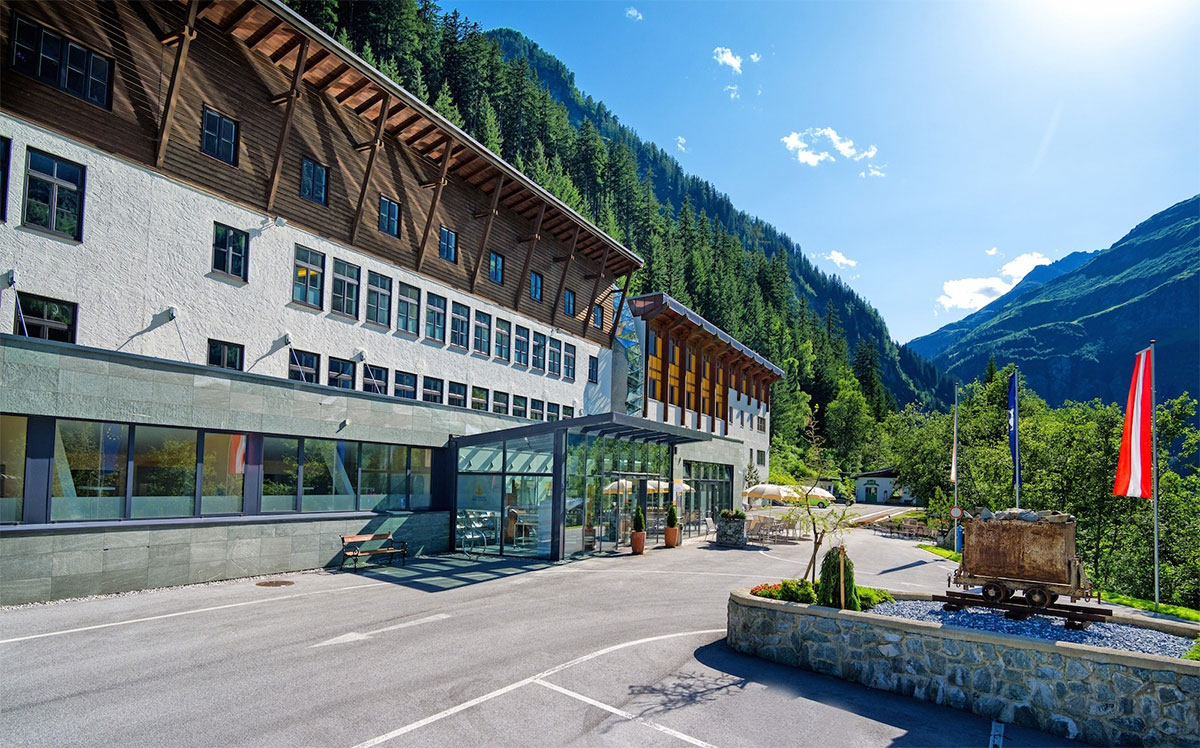 Chronic pain
Bechterew disease as well as chronic polyarthritis
Arthritis
Arthroses
Chronic discopathies
Osteoporosis
Fibromyalgia syndrome
Non-articular rheumatism
Psoriatic arthropathy
psoriatic arthritis
Chronic arthritis urica
Neuralgias, neuritis, polyneuropathia
Sarcoidosis
Disorders respiratory tract
Chronic obstructive pulmonary disease
Bronchial asthma
Chronic sinusitis
Hay fever
Premenopausal and menopausal complaints
Geroprophylaxis
Skin balance disorders
Wounds that fail to heal, especially ulcus cruris
Neurodermatitis
Psoriasis (vulgaris)
Scleroderma
Slight peripheral circulatory disorders
Heilstollen therapy at Hotel Rader
The Healing Gallery is only a two-minute drive from Hotel Rader. The shuttle bus, which takes you to the entrance of the Gastein Healing Gallery, will bring you back to your Hotel Rader after your beneficial time inside the mountain.
Guests of Hotel Rader can enter the Healing Gallery at a special rate.